At Croghan, we understand where you're coming from. Literally. Because chances are, we were brought up with similar values. Honesty. Hard work. Commitment to family. So we hope you consider us more than just your neighbor. Think of us as friends. Better yet, as family. We'd love nothing more than to be here to listen, guide and help you for years to come.
Our Leadership
Board of Directors


James Bowlus, Lead Director
Retired

Michael Allen Sr.
Retired

John Caputo
Co-Owner and VP, Jack Bradley Realty Company

James Dunn
Co-Owner
Dunn Chevrolet Buick

James Faist
Retired

John Hoty
Co-Owner
Hoty Enterprises, Inc.

Claire Johansen
Co-Owner
Lane of Dreams Farm, LLC

Daniel Lease
VP, Chief Financial Officer
WT Holdings, LLC

Thomas McLaughlin
Retired

Allan Mehlow
Chief Financial Officer
The Mosser Group/WMOG, Inc.

Kendall Rieman
President/Chief Executive Officer
The Croghan Colonial Bank

Rick Robertson
Chairman
The Croghan Colonial Bank

Gary Zimmerman
Owner/Partner
Swint-Reineck Company

Sarah Zimmerman
Superintendent
Sandusky County Board of Developmental Disabilities (DD)
Management Team


Kendall Rieman
President/Chief Executive Officer

Carrie Dickinson
SVP, Chief Credit Officer

Brad Elfring
SVP, Senior Financial Officer

Monika Lovewell
SVP, Trust Officer

Chip VanDette
SVP, Chief Lending Officer

Carla Waggoner
SVP, Technology & Operations Officer

Jodi Albright
VP, Regional Manager

Theresa Elfring
VP, Regional Manager

Wayne Nault
VP, Senior Product Manager

Melissa Walker
VP, Retail Operations Manager

Laura Whipple
VP, Human Resource Manager
Our History
Croghan Colonial Bank History
| | |
| --- | --- |
| 1888 | Croghan Bank was founded by Augustus E. Rice and J. W. Pero. |
| 1890 | The Croghan Bank and Savings Co. was incorporated, purchasing the assets and liabilities of the Croghan Bank. |
| 1904 | Croghan Bank and Savings Co. bought the Brainard property at 323 Croghan Street, Fremont – our current Main Office location. |
| 1955 | Consolidation of Croghan Bank and Savings Co. with the Colonial Savings Bank was approved forming the Croghan Colonial Bank. An expansion plan began with locations opening on the East and West sides of Fremont. |
| 1958 | Croghan Colonial Bank bought the Commercial Bank of Green Springs, giving us a new location in Green Springs. |
| 1977 | The Bank bought property for the Ballville Banking Center. |
| 1984 | Articles of Incorporation were approved setting up the holding company, Croghan Bancshares Inc., making Croghan Colonial Bank a wholly-owned subsidiary. |
| 1996 | Croghan Colonial Bank acquired The Union Bank & Savings Company. We gained the Bellevue, Clyde, and Monroeville Banking Centers with this acquisition. |
| 2001 | Croghan Colonial Bank expanded to gain a location in Port Clinton. |
| 2005 | Croghan Colonial Bank acquired The Custar State Bank, giving us a new location in Custar. |
| 2006 | We expanded once again, gaining a Loan Production Office in Norwalk. |
| 2007 | The Bank bought the Wilson Building in Clyde; we built a new Clyde Banking Center at that location. |
| 2008 | Croghan Colonial Bank relocated our Norwalk Banking Center to a full-service facility. |
| 2011 | Croghan Colonial Bank acquired branches from The Home Savings & Loan Company. We gained the Fremont North, Tiffin Downtown, and Tiffin Westgate Banking Centers with this acquisition. |
| 2013 | Croghan Bancshares, Inc. (parent holding company of The Croghan Colonial Bank) acquired Indebancorp (parent holding company of National Bank of Ohio). All National Bank of Ohio branches (located in Oak Harbor, Port Clinton, Oregon, and Curtice) became offices of Croghan Colonial Bank, as well as a Loan Production Office in Perrysburg. At this time we also sold our Custar Banking Center to Farmers & Merchants State Bank. |
| 2015 | Croghan Colonial Bank's Loan Production Office relocated from Perrysburg to Maumee. The Bank also bought the Garden Restaurant in Port Clinton; we built a new Port Clinton Downtown Banking Center at this location. |
Our Name Sake
Colonel George Croghan was 21 years of age when he lead troops through the Battle of Fort Stephenson on August 2, 1813. Croghan had only 160 men with just one piece of artillery, Old Betsy - a cannon, but by shifting its position from place to place he made his enemy believe that his troops were well-armed.

The British stormed the fort with 500 Red Coats and 800 Indians. After the battle, the British loss of dead and wounded was about 120, while Colonel Croghan lost only eight men.

We honor our namesake to this day, admiring his courage and leadership.
Croghan In The News
Croghan's 2020 Contingency Plan Update
Updated 3.24.2020
Coronavirus hardship assistance - if you are experiencing financial hardship due to the coronavirus pandemic, we are here to help. We are offering a loan payment deferral for up to 90 days with no credit bureau impact. Please contact your local branch for assistance, or call our assistance line at 419-333-4700 from 9:00 am to 5:00 pm Monday thru Friday.

Updated 3.19.2020
Croghan Colonial Bank remains committed to do our part to help keep our employees, customers and fellow community members healthy and safe from the community spread of the coronavirus (COVID-19).
After reviewing guidance from local and state agencies, as well as our primary federal bank regulator, we have modified our branch services to operating drive-thru services only effective Monday, March 23, 2020. We are still able to accommodate all of your banking needs and remain absolutely committed to making ourselves available to our clients at this difficult time.
Beginning Monday, you may conduct your banking by:
Drive-Thru: All Drive-Thru facilities will remain open at regular hours. Rest assured, we can continue to help you with all of your banking needs. Should you have any questions regarding this, please feel welcome to contact your local branch.

Online & Mobile Banking: View transactions, transfer funds, pay bills, and make mobile deposits. To enroll contact our Customer Support at 888-276-4426, we'd be happy to help you get signed up and walk you through how to get started today.

Telephone: Automated access to account information 24/7 by calling 419-355-2121 or 800-219-6124. To enroll contact our Customer Support at 888-276-4426, we'd be happy to help you get signed up and walk you through how to get started today.

ATM: Find access to our MoneyPass ATM Network with 32,000 ATMs available nationwide. Find an ATM near you.

Night Depository: We will begin checking our night depositories periodically throughout the day for customers who wish to use this service to make a deposit.

Special Services Phone Support: For specific inquiries call:
Customer Support: 419-332-7301 or 888-276-4426
Monday – Friday: 9 am – 5 pm, Saturday: 9 am – 12 noon


Send a secure email

Bill Pay Questions: 877-452-5831
Lost or Stolen Debit Card: 800-472-3272
Lost or Stolen Credit Card: 888-564-5025

Personal Appointment:
Should your needs require an in-person meeting, our bankers would be happy to coordinate a scheduled time to meet with you. Your banker will meet you at the bank door at your scheduled time.

Examples of banking services that may require a pre-authorized access to the banking center include:
Access to your Safe Deposit Box
Opening, closing, and servicing of accounts
Mortgage and Consumer Loans
Commercial Loans and Cash Management Services
Investment Services and Trust Department


The health and safety of our customers and employees is our top priority. We appreciate your patience during this time. Please continue to check back on our website for more information and future branch service updates.
Update 3.13.2020
As we continue to monitor developments regarding the spread and impact of the coronavirus, we want you to know that the health and safety of our customers and employees is our top priority.
What we are doing to minimize potential service disruptions:
At this time, it is hard to predict the full impact the virus may have on our communities; however, we are taking necessary steps to minimize future service disruptions for our customers. Croghan has a Business Continuity Plan for public health events such as this. While we do not anticipate business disruption, should one occur, we have in place a contingency plan which has prepared our company to address many situations such as COVID-19. The next steps in our plan would be to have employees work remotely, activating drive-thru operations only or temporarily closing branches if necessary to reduce the spread of the virus. We will monitor developments daily and communicate changes to our employees and customers as necessary.
Options you have for banking with Croghan remotely:
We understand how important it is that we give you as much flexibility as possible when banking with us, particularly as the situation continues to evolve. With our digital banking services, we offer many convenient ways for you to do your banking whenever and wherever you chose. Our product lines include many options, which include:
Online Banking
Mobile Banking- including mobile deposit of checks
Online Bill Pay
Zelle - pay anyone quickly and securely using your phone
Telephone Banking
MoneyPass ATM Network - 32,000 surcharge free ATMs nationwide)
If you've yet to enroll in our digital services, give us a call at 888-276-4426. We'd be happy to help you get signed up and walk you through how to get started today.
Be alert for fraud and scams.
Unfortunately, times like this increased activity of cybercriminals who prey upon the public's concerns. Fraudsters look to gain trust and information they can use to gain access to your account. Please be skeptical of unsolicited contact from people trying to cause alarm to you or wanting to verify private information. You should never provide anyone your Social Security number, account numbers, username or password, or the answers to security questions. For information on scams please visit the Federal Trade Commission. Should you have concerns or feel you are a victim of fraud, please contact the authorities as soon as possible.
Croghan Colonial Bank Supports Local Non-Profit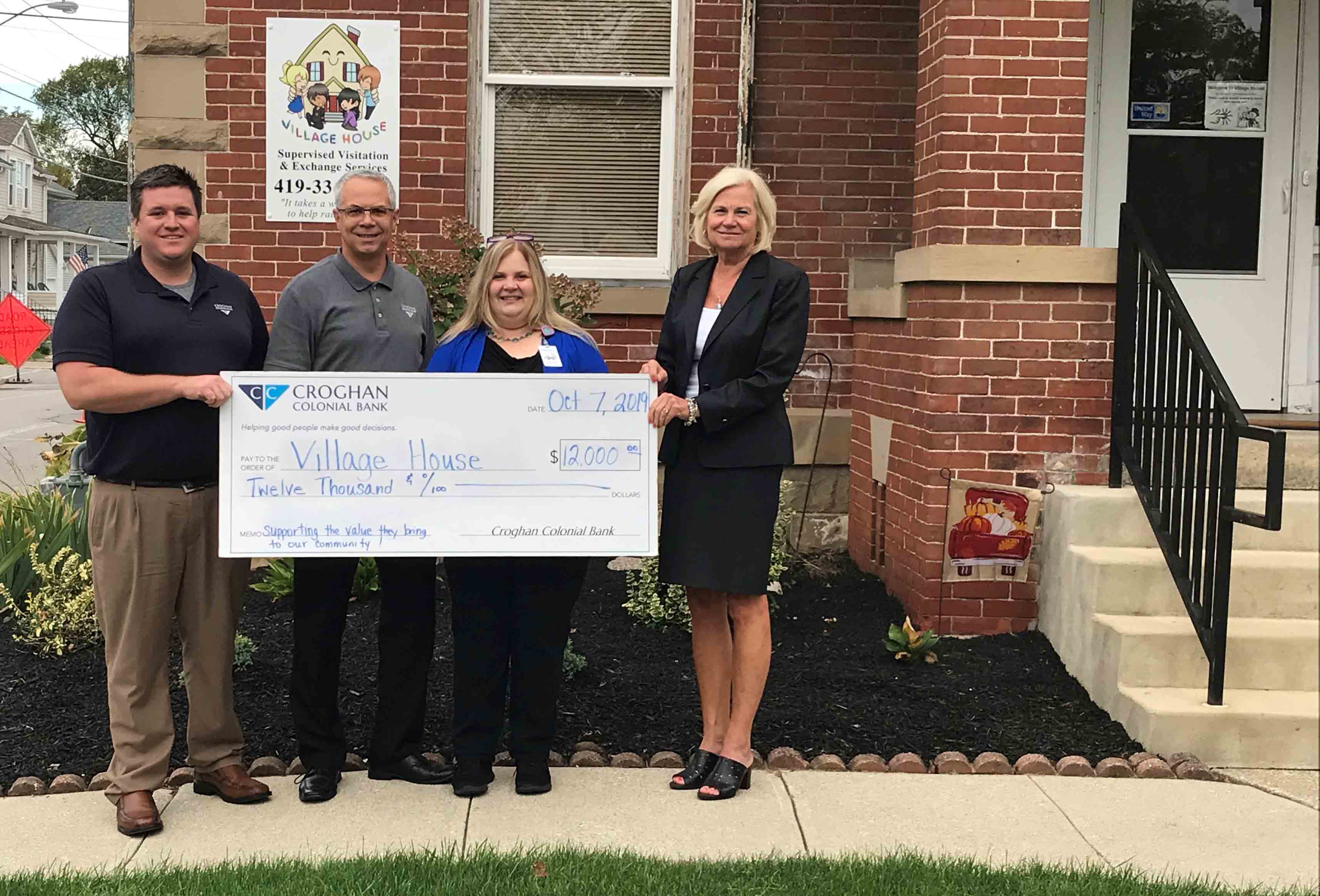 Pictured above: Brad Elfring - Croghan's Senior Financial Officers, Kendall Rieman - Croghan's President and CEO, Sue Fuller - Village House Executive Director, Connie Moore - Village House Board Treasurer
The Village House of Northwest Ohio Inc., located on Rawson Avenue in Fremont, has been connecting families in Sandusky County for 24 years.

The Village House is a safe place for children to have accessibility to their nonresidential parents and other family members to visit each other. "Oftentimes events happen in someone's life that create some separation in the home," said Sue Fuller, Executive Director of The Village House. "We are that venue that brings it back together because regardless of the circumstances the children involved should not have to suffer the consequences."

The Village House relies on community support, which is why Croghan has decided to step up. "We were fortunate enough to tour the facility and to learn everything that The Village House does for our community," said Kendall Rieman, President/CEO of Croghan Colonial Bank. "I was impressed with the effort this organization puts into making sure their facility feels like home to the families that visit."

The Village House was selected as the recipient of the 2018 Joint Effort For Fellowship (JEFF) Project. Fremont philanthropist organizations including Kiwanis, Fremont Exchange Club, Rotary, Soroptimist and Lions chapters combined their financial resources, ideas and manpower to fulfill a major renovation project to include a new recreation area for families to enjoy. The Sandusky County Communities Foundation provided grant monies to upgrade the kitchen area and security systems to further promote the mission of safety for all those who visit.

"We apply for grants, and sometimes we get them, but the grants are for one of our specific programs," said Connie Moore, Village Houses' Board Treasurer. "Those monies are not to just keep the lights on, which is why Croghan's donation means so much to us."

"Focusing on the local organizations is a staple of Community Banks like us. We're happy to give back to such great organizations in all the communities we serve. Village House is providing a needed service so were happy to support the effort," said Rieman.
Monroeville Local Schools Goes High-Tech through Partnership with Croghan Colonial Bank

Pictured above: Chip VanDette - Croghan's SVP and Commercial Loan Officer, Kyle Krupp - Croghan's AVP and Commercial Loan Officer, Ralph Moore - Monroeville District Superintendent, Betsy Ruggles - Board President, Stephanie Hanna - Monroeville Local Schools Treasurer, Adam Gerber - Monroeville District Technology Director, and Darlene Tyler - Croghan's Monroeville Branch Manager
Seven years ago, Monroeville Local Schools embarked on an initiative to bring Chromebooks to all of their students Pre-School through 12th grade. "We now have 600 Chromebooks in the district," said Adam Gerber, District Technology Director, "we have a 1-to-1 ratio of the Chromebooks per student starting in Kindergarten. K-4th grades have the Chromebooks available in their classrooms while 5th-12th grades have their own individual Chromebook."
Gerber has also developed technology lessons that the students start attending as early as Kindergarten. "The students are able to use these devices for in-class work as well as homework, and all of their work is submitted online," said Gerber "State testing has been more proficient since implementing the use of these devices in the classrooms."
"Most of the curriculum is computer based and a large percentage of Monroeville's high school students are enrolled in the College Credits Plus program through BGSU Firelands, so the Chromebooks have benefited students both inside and outside of the classroom", said Ralph Moore, Monroeville Local Schools Superintendent. "Also, having our staff embrace the use of the Chromebooks not only improved their professional development, but has contributed significantly to the success of the program."
The Monroeville Locals Schools purchased 450 new Chromebooks in August 2019. Croghan Colonial Bank's donation of $3,500 toward this project purchased about 20 of the Chromebooks for the students. "We're a small school district, but our technology is cutting edge," said Moore. "This program wouldn't be possible without our partnership with Croghan Colonial Bank. Their support and trust have helped tremendously."
"Monroeville Local School District has always been a valued partner of Croghan Colonial Bank," said Kyle Krupp, Croghan's Commercial Loan Officer. "The forward-thinking of Superintendent Moore, Treasurer Hanna, and the Board makes it easy for us to jump in and support their projects."
OTC Markets Group Announces the 2019 OTCQX Best 50

Canada NewsWire
NEW YORK, Jan. 24, 2019 /CNW/ -- OTC Markets Group Inc. (OTCQX: OTCM), operator of the OTCQX®, OTCQB® and Pink® financial markets for 10,000 U.S. and global securities, today announced the 2019 OTCQX® Best 50, a ranking of top-performing OTCQX companies in the prior calendar year.
The OTCQX Best 50 is an annual ranking of the top 50 U.S. and international companies traded on the OTCQX Best Market, based on an equal weighting of one-year total return and average daily dollar volume growth. Companies in the 2019 OTCQX Best 50 were ranked based on their performance during the 2018 calendar year.
"We congratulate this year's OTCQX Best 50 companies on this recognition and for the diligence and commitment they share in providing the optimum levels of transparency and disclosure to their respective investor base," said Jason Paltrowitz, Director, OTC Markets Group International Ltd. and EVP, Corporate Services. "The diversity of 2019 OTCQX Best 50 demonstrates the value of the premium OTCQX Market to provide tangible benefits and drive value to the broadest array of companies spanning all sizes, industries, and geographic regions, from well-capitalized US community banks to Mega-Cap foreign exchange-listed Global brands."
2019 OTCQX Best 50 Results


2019 OTCQX Best 50 companies traded an aggregate $19.3 billion in dollar volume in 2018. The companies delivered to investors an average total return of 21%.
The year's #1 top performing company, Largo Resources, is a Toronto-based strategic mineral company focused on the production of vanadium flake, high purity vanadium flake and high purity vanadium powder at the Maracás Menchen Mine located in Bahia State, Brazil.
Largo Resources Ltd. (OTCQX: LGORF) also cross-trades on the Toronto Stock Exchange and therefore earns the ranking of the top performing international company.
Among this year's Best 50 were 28 companies that paid a dividend in 2018 and 14 Companies included in the OTCQX Billion+ Index (.OTCQXBIL).
This year, sixteen regional and community banks were included in the Best 50 list:
Citba Financial Corp. (OTCQX: CBAF)
Communities First Financial Corporation (OTCQX: CFST)
Croghan Bancshares, Inc. (OTCQX: CHBH)
Dacotah Banks, Inc. (OTCQX: DBIN)
Farmers & Merchants Bancorp (OTCQX:FMCB)
Fentura Financial, Inc. (OTCQX: FETM)
First Advantage Bancorp. (OTCQX: FABK)
GrandSouth Bancorporation (OTCQX: GRRB)
Harleysville Financial Corp. (OTCQX: HARL)
Lyons Bancorp, Inc. (OTCQX: LYBC)
Marquette National Corp. (OTCQX: MNAT)
Mars Bancorp, Inc. (OTCQX: MNBP)
Mountain Commerce Bancorp Inc. (OTCQX: MCBI)
NASB Financial, Inc. (OTCQX: NASB)
Sturgis Bancorp, Inc. (OTCQX: STBI)
Wayne Savings Bancshares, Inc. (OTCQX: WAYN)

Three companies from last year's ranking remained on the list in 2019:
Corvus Gold, Inc. (OTCQX: CORVF)
Repro Med Systems, Inc. (OTCQX: REPR)
Smith-Midland Corp. (OTCQX: SMID)



The 2019 Best 50 represents the expansive global reach of our OTCQX Market with 26 Foreign Exchange-Listed Companies cross-trading on 11 Foreign Exchanges representing 9 countries:
| | |
| --- | --- |
| Foreign Exchange | Country |
| ASX - Australian Securities Exchange | Australia |
| BM&F Bovespa | Brazil |
| Toronto Stock Exchange | Canada |
| Canadian Securities Exchange | Canada |
| TSX Venture Exchange | Canada |
| Frankfurt Stock Exchange | Germany |
| Bolsa Mexicana de Valores | Mexico |
| Euronext Amsterdam | Netherlands |
| Moscow Exchange | Russia |
| SIX Swiss Exchange | Switzerland |
| LSE - London Stock Exchange | UK |
The 2019 OTCQX Best 50 Companies are:


OTC Markets Group applied the following criteria to the 410 companies traded on OTCQX on December 31, 2018 to determine which companies would qualify for the 2019 OTCQX Best 50:
traded on OTCQX on December 31, 2018
closing share price of $0.25 or greater on December 31, 2018
positive total annual return in 2018
traded equal to or greater than $500,000 in dollar volume in 2018
not a "penny stock" on December 31, 2018, as defined under SEC Rule 3a51-1 of the Securities Exchange Act of 1934
member of the OTCQX Composite Index as of December 31, 2018
OTC Markets Group reserves discretion to omit companies from the ranking that no longer demonstrate the OTCQX market standards of transparency and wide distribution of news and financial disclosure.
The OTCQX Best 50 is for informational purposes only. Neither OTC Markets Group Inc. nor its affiliates make any recommendation to buy or sell any security or any representation about the financial condition of any company. Investors should undertake their own due diligence and carefully evaluate companies before investing.
About OTC Markets Group Inc.
OTC Markets Group Inc. (OTCQX: OTCM) operates the OTCQX® Best Market, the OTCQB® Venture Market and the Pink® Open Market for 10,000 U.S. and global securities. Through OTC Link® ATS and OTC Link ECN, we connect a diverse network of broker-dealers that provide liquidity and execution services. We enable investors to easily trade through the broker of their choice and empower companies to improve the quality of information available for investors.
To learn more about how we create better informed and more efficient markets, visit
www.otcmarkets.com
.
OTC Link ATS and OTC Link ECN are SEC regulated ATSs, operated by OTC Link LLC, member FINRA/SIPC.
Subscribe to the OTC Markets RSS Feed Media Contact:
OTC Markets Group Inc., +1 (212) 896-4428
Careers