As we turn the page on the first month of 2022, the Croghan Trust team is paying close attention to recent stock market volatility. The year has started with equity and bond market weakness, particularly in the NASDAQ leaders that have powered the markets through much of the last 3 years. The majority of this activity is attributable to market expectations of the Federal Reserve's (FED) monetary policy tightening signals, COVID fatigue, and recent reports of persistent inflation.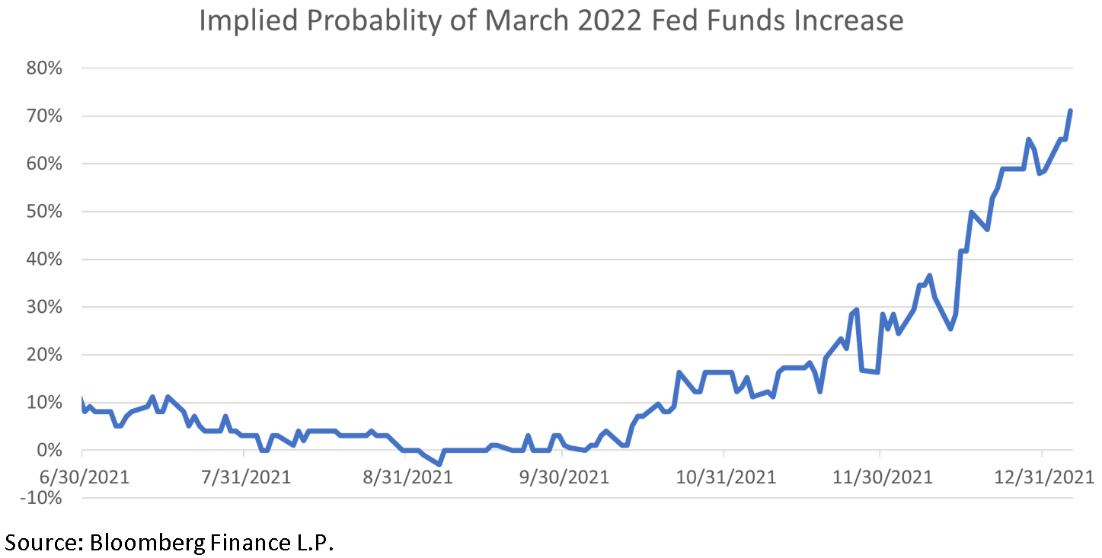 In the past couple of years particularly, the FED dramatically increased its bond-buying during the "COVID Recession" in order to help stimulate the economy more than they could through just lowering interest rates. This stimulation, along with large government spending programs significantly affecting monetary and fiscal policy, has created sizable money supply excesses in the economy and has thus helped cause higher inflation along with COVID-related supply chain interruptions.
Disruption from labor shortage and supply chain difficulties have been surprisingly stubborn. The whipsaw effect of sudden production drops during COVID lockdowns followed by a rush of pent-up demand has resulted in empty warehouses and shelves, overflowing shipping docks and warehouses, and increasing price pressure. This has added up to rising wages but prices and taxes increased at an even faster rate. COVID concerns have appeared to peak, but the uncertainty of the threat to economies has remained an unwelcome overhang.
The FED recently indicated they do not plan to raise interest rates until they have stopped buying bonds. Originally, markets expected that the FED would end bond purchases in June and shortly thereafter would begin raising Fed Funds rates. More recently, they have announced changes that are shortening this timeline, with bond purchases expected to cease in March. The FED now indicates that by 2024 they expect Fed Funds rates to move up to 2.1% from the current 0% environment.
While almost everyone recalls interest rates of 2%+, markets have become accustomed to the current low rate extremes. Rising interest rates pose a valuation concern, as we can justify higher stock and bond prices when the economy has excess liquidity, low-interest rates, and low inflation. A change in this important factor makes markets look even more overvalued than they appeared previously, as prices have run-up in the chase for inflation-beating returns.
Typically, in a rising interest-rate environment, high-quality small companies are more nimble and able to make changes to their operations quickly, which helps limit losses when interest rates increase. Larger companies, specifically those that are multinational, may have a harder time adjusting quickly to rising rates, especially those companies that rely on significant amounts of debt to finance their ongoing operations.
"Growth" companies are generally able to finance most of their ongoing operations from internal revenue streams, whereas "Value" companies typically use a significant amount of debt. In addition, investment returns from "Value" companies are generated from stock appreciation and dividends received. Some investors who own dividend stocks tend to switch to the certain income of bonds as interest rates rise. This could create another headwind to certain areas of the stock market.
The current political turmoil in the US and worldwide presents another potential headwind to the markets. If the conflict between Russia and Ukraine escalates, most likely that would result in increasing energy prices, further negatively affecting economic conditions. Sustained world turmoil presents a risk to a relatively calm period for the markets over the past decade.
During our prior and current communications with clients, we have generally taken the position of weighting portfolios conservatively when markets appear to be overvalued or volatile. Our market data has long indicated that the markets have remained overvalued compared to historic norms even as valuations have marched upward. The historic low-interest-rate environment and FED policies have contributed to this, and as seen from the recent volatility, FED policies may finally be the catalyst that leads to a correction in these elevated valuation levels.
In response to expected interest rate increases and volatility concerns, we made several changes to our portfolio models in December prior to the recent volatility. In our fixed income portfolios, we added a floating rate fund and shortened the duration of bond holdings to limit valuation declines as much as possible. We have also included a convertible securities allocation for added income and resistance to interest rate sensitivity.

In our equity portfolios, we are allocating more toward the large growth and small value segments of domestic markets. We have reduced our international exposure and added to commodities and protective strategies, such as the JP Morgan Hedged Equity fund in the mutual fund portfolios. These changes are meant to protect your assets from a decline while leaving room for a market recovery if FED actions prove effective and markets adjust.

We understand that we are in volatile and difficult times. One can take solace in the fact that our country and markets are constantly facing some sort of stress, and time and experience have taught us fundamental concepts to help us deal with the uncertainties. We are endeavoring to read constantly, watch markets, and make appropriate changes as conditions warrant.

We enjoy discussing your accounts and our market observations with you, in person or by phone, and we invite your continued interest in your financial health and our endeavors.

Investment products and services may lose value, are not a deposit, are not guaranteed by any financial institution, and are not FDIC insured or insured by any government agency.