As we head towards cooler weather and shorter days in the second half of 2022, the Croghan Trust team is actively managing portfolios to deal with continuing market volatility. The first half of the year provided accelerating inflation and Federal Reserve (FED) Funds rate increases. That logically led to rising prices, slowing demand, a drop in consumer confidence, and a sour investment mood. Much of that was due to market expectations for continuing FED rate increases and tightening, with a growing fear of a possible recession in the months to come.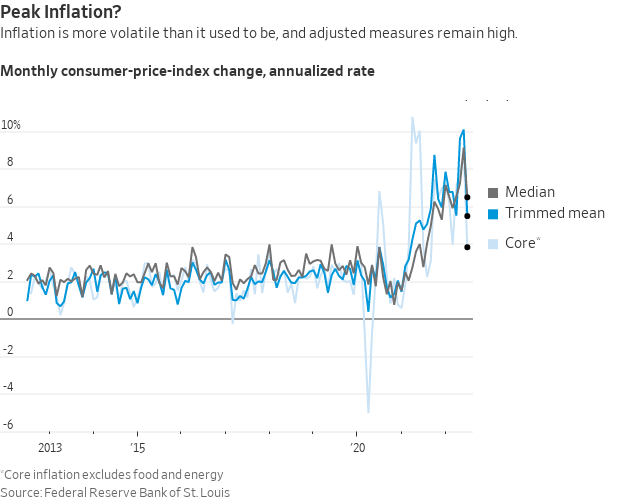 2022 has proven tough for investors as the losses that started in January 2022 grew deeper through the end of June. Seemingly, just as the COVID-19 threat ebbed, the Russia-Ukraine war and China's zero Covid policy provided new destabilizing power in addition to growing US economic worries.
The FED raised interest rates 0.75% in June and July and confirmed they expect short rates between 2.50%-2.75% by year-end. The Treasury debt yield curve is close to inversion as short rates rise faster than long rates. If inflation and growth slow as expected, large rate hikes should end in 2022 followed by stabilization or cuts once inflation is controllable, hopefully by mid-2023. We expect YoY inflation to fall to roughly 6% by year-end, with GDP growth of about 2% in 2023.
Our current belief is that a recession will not occur in 2022, but there is a distinct possibility of a "soft cyclical" recession in 2023. Unlike the Financial Crisis of 2008-09, we do not expect a crash of the markets, but rather expectations are for a slowdown in growth leading to more muted market performance in the near term with persistent volatility. A wild card could be if inflation slows faster than expected, possibly buoying markets in the short run.
We are seeing some supply chain improvement as imports roll in and domestic suppliers recover, but Chinese lockdowns over its Zero-COVID policy remain a threat. When China finally recovers from its COVID-19 lockdowns, we expect to see imports from China accelerate once again. The Russia-Ukraine war continues to be a strain on energy and agricultural markets, in particular, slowing their normalization.
With oil up 44% year to date and gas prices topping $4 per gallon for the first time since 2008, Energy has been a major growth dampener. We have seen a retraction in gas prices during the second quarter, and with more production and refining in place, we expect prices to continue to moderate, barring another market shock.
Earnings adjustments due to current economic conditions may lead to lower earnings and less attractive stock values, but 2nd Quarter earnings have so far shown US consumer spending holding up reasonably well. We are not fully convinced equity markets have bottomed, but the rebound that started in July is an encouraging sign that could lead to stabilization in hardest-hit market areas.
The US labor market continues to be a bright spot in a gloomy environment, with unemployment holding at 3.5% through July, barely above its record low. There are still 5.4 Million unfilled jobs, though employment gains should slow as employers reassess growth plans amidst rising costs and inflation.
While inflation and recessions are worrisome, equities can combat increases in inflation and have done so 90% of the time when inflation has been at or above 3%. From past observations, Energy and Real Estate tend to outperform during inflation spikes, along with defensive sectors including Health Care, Consumer Staples Utilities, and Basic Materials and Commodities. As such, we have largely overweighted value, low volatility, and dividend-oriented holdings since October 2021. Improvement in early economic indicators will provide us impetus to reweight portfolios more aggressively if we can substantiate those improvements in future conditions.
Likewise, politics play into market decisions strongly these days. Polls predict a divided government within the House and Senate in the upcoming mid-term elections. Divided government has historically led to economic growth in the months following elections, while the market has tended to dip in the months beforehand. Markets tend to favor less policy change and more free market conditions, so what looks like a "do-nothing" Congress or presidency ends up being the preferred mode for most investors.

The recent stock market rally has been extraordinarily narrow. As the S&P 500® Sector Performance chart highlights, only 2 of the 11 sectors have outperformed. While speculators and day traders might be enjoying the rally, investors might want to be more cautious.

A good investment philosophy is to remember that negative sentiment can lead to attractive equity values and better markets ahead, leading to economic and market growth. Over the past 46 years, investors have never encountered a 3-year span of losses in both stocks and bonds, with stocks and bonds being negative only 15% of the time. We keep this in mind as we steward your investments through these choppy waters of 2022.


Investment products and services may lose value, are not a deposit, are not guaranteed by any financial institution, and are not FDIC insured or insured by any government agency.