Online Banking Education & Awareness
Is Online Banking Safe?
The internet is an inherently unsafe environment and consumers must be careful when using online banking services at any financial institution. Croghan Colonial Bank works hard to provide a safe and secure online banking service, however consumer awareness and diligence are encouraged to minimize risks of internet usage.
Type of Threats to Online Banking Customers
Malware
Malware is short for malicious software. Malware includes viruses, spyware and other software designed to gain access to or damage a consumer's personal computer. Malware may be present on websites or hidden in document attachments, links, photos or videos. Malware is often disguised as email from a known contact and is often activated when a link or attachment in the email is opened.
Phishing
Phishing is an activity that allows criminals to access your personal information through your computer. Phishers post as individuals from organizations you know and trust to obtain you log-in information, passwords and account numbers.
Pharming
Pharming occurs when internet traffic is diverted from a legitimate site to a criminal's fraudulent site. Once consumers are on the fraudulent site, pharmers can record their keystrokes and obtain personal information.
Scareware
Scareware is an official-looking pop up screen that warns consumers about a potential problem with their computer. Spyware programs are then launched onto the computer when a consumer opens the pop-up window.
Spyware
Spyware is loaded to a consumer's pc and used to collect address book information, passwords, banking information and behaviors for ease in accessing their credit card or bank accounts.
Viruses
Viruses are malicious software (malware) programs designed to reproduce and infect other computers. Viruses can spread from one personal computer to another by attaching to a consumer's address book. Viruses can also spread by accessing a computer connected to a company network and spreading to other computers on the network. Once on a computer, viruses can alter, destroy or use personal information for malicious purposes.
How Will Croghan Colonial Bank Contact You?
Croghan Colonial Bank may occasionally call or email you promotional information. If you contact us to discuss your account, we will request personal information to verify your identity before we share any information. This is for your security.
However, Croghan Colonial Bank will not:
Send an Email Asking for Your Bank Account Numbers or Passwords
Notify you by Email of a Required Change in Your Online Banking Records
Send you an Email Directing you to an Attached Link for a Promotion
Call you to Confirm Your Account or Online Banking Information
Online Security Best Practices
What can you do to protect yourself?
Here are some suggestions:
Protect Yourself
Use reputable anti-spyware, anti-virus and anti-malware programs on your computer. Update your security software regularly. Avoid using free programs, whose results are often unreliable. Free programs may also be decoys for malware.
Maintain Your Protection
Perform security scans weekly or whenever you suspect malware has been loaded to your computer. Follow your security software's recommendations and install updates when they are provided.
Passwords
Use Passwords that will be Difficult to Detect; Avoid Names or Common Phrases
Use Passwords that Contain a Combination of Letters and Numbers
If Programs Permit, use Special Characters in Your Passwords
Capitalize Various Letters in Passwords, not Just the First Letter
Change Passwords Often
Do Not use the Same Passwords for Different Websites
Surf Safely
Be careful when surfing the internet. Visit sites you know and trust. Be careful about promotions and offers presented without you request. Be careful about pop-up windows and suggested links. Close each website before proceeding to another. Log out of any financial services website before proceeding to other activity on the web.

Product Tutorials
Watch Our Product Tutorials


Industry Links
We've established this list of industry and related links to assist you.

Blog
3 Huge Ways Good Credit is Good For You
Written by Paul Wannemacher, Croghan's Certified Financial Planner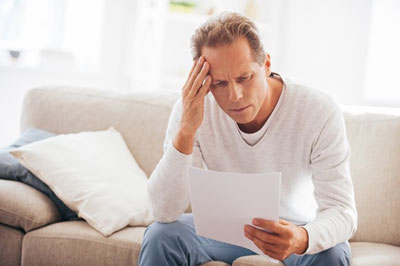 As competitive as Americans are, some of us don't want to compete with ourselves to build the best credit scores we can. Just like having low cholesterol, healthy teeth and exercising daily, having good credit makes life go so much smoother. Here are the benefits it brings:
Improve your interest rates on home loans, car loans and credit cards. According to a recent study, about 1 in 5 Americans have "excellent" credit, and 1 in 3 have "poor or bad" credit. So lots of us may be missing out on the easiest way to cut costs on the things we need and want.
Save on car and home insurance. Carriers charge premiums based on your loss history (how many claims or accidents) and a general insurance score based on factors including your credit score. For example, when looking to renew an auto policy, factors that affect cost can be: credit score, number of accounts paid as agreed, number of credit inquires in the last 2 years and other related factors. So, if you want to lower your insurance costs, think about credit scores before you apply. Saving 20% on clothing by opening a credit card at the store might cost a lot more than that on your car insurance premiums!
Less stress. A recent study from the Center for Disease Control shows a rise in mental and emotional illness, depression and anxiety in American society since the 2007 recession and the economic recovery since has not been enough to change that. Society for Human Resource Management finds that financial stress lowers productivity at work, causes arguments at home and can lead to fatigue, headaches and physical illness. So like it or not, bad credit indirectly affects all of us.

At Croghan we know banking and investing is more than just a transaction, it involves a trusting relationship. We care about your financial well-being and want to help you one-on-one to become as financially healthy as you can be. We realize helping you build good credit helps us and the people you care about too.
Knowing When and How to Expand Your Business
Written by Carrie Dickinson, Croghan's Chief Credit Officer

Does your business have a strong base of customers in a growing market? Has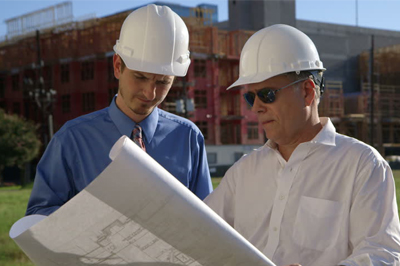 the business been profitable for at least three years? Does it have positive cash flow and more business than it can handle?

If you answered yes to these questions, it might be time to grow the business. To know for sure, you'll need to ask some additional questions.

Sometimes there is a mismatch with the timing and the desire to grow. It is important to not only want to grow, but make sure it's the right thing for the profitability of the business. Sometimes growth doesn't always mean added profit.

Additional questions might include: What added expenses will you incur? Will you need more staff, space, equipment or financing? Will the additional revenue you earn justify the increased costs?

It is important that the business owner understand the difference between the desire to grow and how that might impact the company's success. Growing just to be bigger isn't always in the best interest of the company if it adds expenses that are not supported by the projected sales.

For example, building a new location might be wise, because while it will add a mortgage payment, it may be less than the existing costs of a leased facility.

However, if the company is struggling to make a profit on its core products, expansion alone is unlikely to change the financial situation. If, after careful review, there is a solid financial case for expansion, a new business may not yet have the collateral for a traditional loan. In that case, the bank will work with the business owner to see if the business will qualify for a Small Business Administration loan or a USDA loan. Both offer opportunities to businesses with a positive track record of retaining or adding jobs, but don't have the history or collateral needed for a traditional loan.

At Croghan we work with business owners to understand how growth can impact the business, and if we agree, we also work closely with them to secure financing to support that growth.
Strategies for Managing a Business' Short-Term Cash Requirements
Written by Shantel Laird, Croghan's Cash Management Officer
It is important for businesses to have tools in place to manage both the excess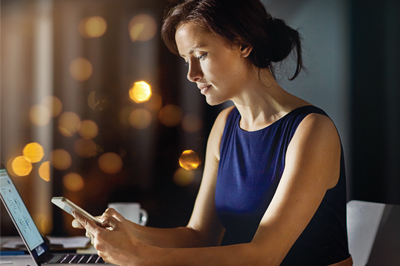 and shortage of cash created by the time gap between collecting receivables and sending payments to vendors.

Because payments and bills do not line up exactly, you need strategies for both types of situations. When there are extra funds, those short-term dollars can either be put to work to earn interest in an account for those few days, or the money can be used to reduce interest expense by being applied to loan balances.

Maintaining a minimum balance may reduce service charges, so in some cases leaving the funds in the checking account may be the best choice. In other cases, it would be beneficial to move the funds into other accounts. The key to making sure the business has a pre-determined strategy to make the best use of those funds on a daily basis.

At the other end of the spectrum, a line of credit can help manage a business cash needs when existing cash flow does not cover the current expenses. A line of credit is a loan and can be used to help a company with short-term expenses, such as working capital, receivables or inventory management. A line of credit ensures that you have smooth operations as your income and expenses fluctuate.

It is important that you use the information from your cash flow management system to understand how much of a line of credit you actually need.

Can you have too much credit? The answer is yes. For example, if you have excessive credit, you might not be as attentive to the accounts receivables.

With a line of credit, you make no payments and pay no interest until you actually use the funds. A line of credit also provides you the flexibility of paying the balance in full or making payments each month.

At Croghan we believe the key is for the business owner and the bank to work together to ensure the line of credit allows for the flexibility to act when opportunities arise, but doesn't lead to unnecessary interest charges.

Customer Testimonials
Family Legacy Lives on Through Partnership with Croghan Colonial Bank


Stephen Thomas set out with an ambitious goal" to start a steel fabrication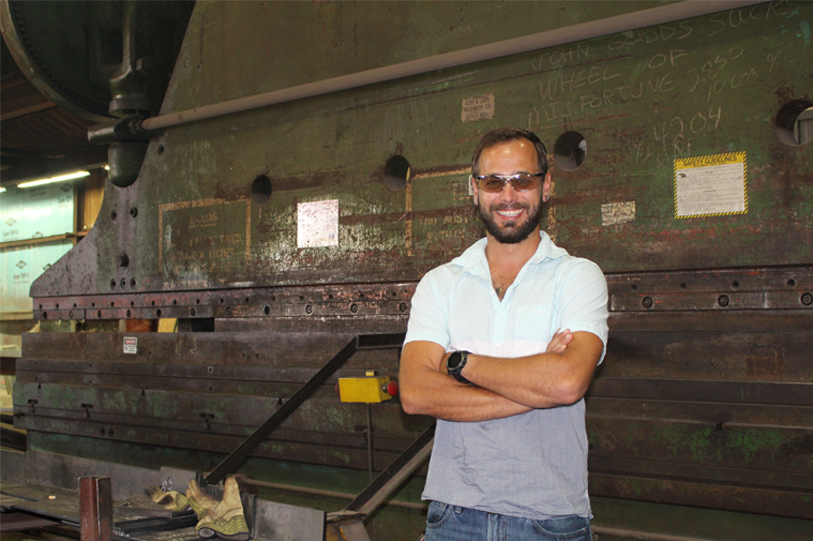 business built on a reputation for quality and service at competitive prices. Little did he know that his small shop would weather significant storms while growing into a third-generation, family owned business with more than 40 employees.

In 1963, Stephen laid the foundation with the launch of a structural engineering firm. In time, Thomas Steel evolved into a steel fabrication shop that produced light commercial and industrial steel components.

"They built mezzanines, small platforms, stairs and other smaller projects to start," said Jake Thomas, the founder's grandson and current CEO. "He eventually expanded the business into structural fabrication and it was very successful for many years."

Stephen's son, Dan, headed day-to-day operations beginning in the late 1980s. Under his leadership, Thomas Steel began to produce long-span roofing systems for the automotive market. Upon Dan's death in 2005, Dan's wife took the reins, working closely with long-time associate Steve Roth.

Shortly thereafter, the automotive market faced tough times as the economy crashed and business began to slow.

"It was time to diversify," Jake said. "So they started focusing on the columns, beams and main member skeleton pieces and expanded our client portfolio to include schools, hospitals and other large structures."

When Mrs. Thomas was diagnosed with Alzheimer's disease, it was time to pass the company to the next generation. Jake Thomas was only 22 years old when he began purchasing Thomas Steel in 2012.

"I thought no one would ever give a 22-year-old a credit line for a couple million dollars to buy materials for this business," he said. "Croghan was willing to work with me when other banks would not."

With help form Dave Sabo, Vice President of Commercial Lending at Croghan Colonial Bank, Jake was able to get that line of credit and carry on his grandfather's legacy while helping to manage his mother's health care.

"We saw some tough financial times, and a lot of other banks would not have worked with us," Jake said. "If it weren't for our relationship with Croghan and their flexibility, we wouldn't be in business today."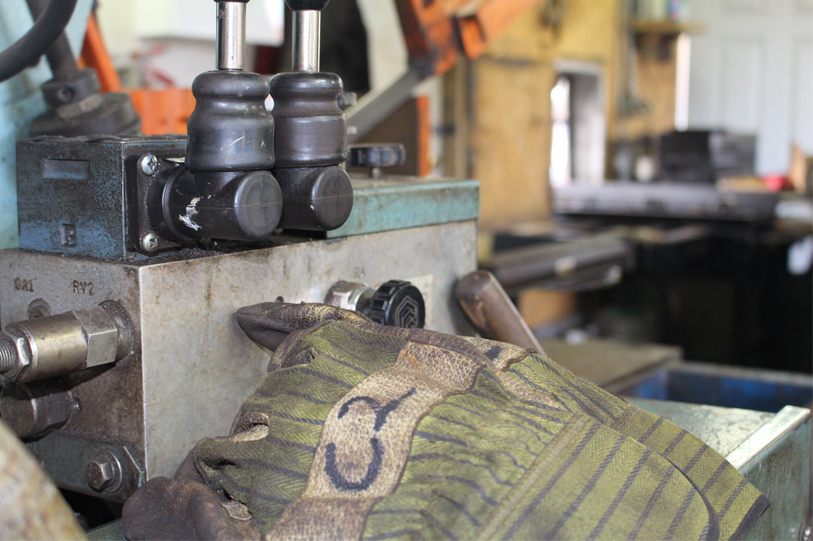 Dave said it's all party of being a community bank. "It is very easy to loan to a small business when times are good. The challenge is standing behind them when times do get rough and working with them to get through it. And we did. As a community bank, that's what we strive to do. Because the clients I deal with I also live with in the community, I worship with, I show with, I know they are good, hard-working people and they are worth fighting for," he said.

With help from Croghan, Thomas Steel is thriving. Jake is once again partnering with Croghan as he leads Thomas Steel through an expansion and the purchase and installation of new equipment that will help streamline operations and position the company for continued growth.

"They have taken care of us. Croghan knows my family personally and has provided support and understanding over the year," said Jake. "It's more than business. It's a personal partnership, and it's comforting to know they believe in me."
Strong Relationship with Croghan Colonial Bank Builds Solid Foundation for Dave Zimmerman Contractor, LLC

Dave Zimmerman Contractor, LLC, has long operated under - and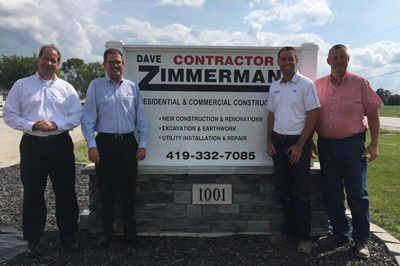 insisted on - strong and honest principles like supporting the community, building relationships on trust and finding unique solutions.

Dave Zimmerman Contractor is a local, family-owned and operated business. Dave's father, Don Zimmerman, started the business in 1960, and Dave bought the business when his father retired. The business is now transitioning to the third generation; Dave's son Tony is in the process of taking it over.

Zimmerman Contractor provides commercial and residential general construction, excavation, grading, renovation and remodeling. It's a business based on local relationships, so both Dave and Tony place significant importance on supporting the local community.

"Local is very, very important to me. It was very important to my father. We buy everything local as much as we can...and I support the nonprofit organizations in this county." said Dave.

This "buy local" mentality is what led Dave Zimmerman to bank with Croghan Colonial Bank.

"There was only one organization serving coffee every year at the fair, and guess who it is: Croghan Colonial Bank," Dave said.

He took particular notice of Croghan's annual fair presence one year while watching his kids' band performance. The next week, Dave asked his then-bankers how they were supporting the local community. "I couldn't get a good answer," he said. So he switched to Croghan.

As a locally owned and operated bank, Croghan embodies many of the same principles as the Zimmermans. Croghan regularly supports local organizations and events to connect with and contribute to its community.

"Some people throw their names everywhere, but I don't get that sense from certain businesses," said Tony Zimmerman. "Sure you see the sign that says Croghan sponsored the refreshments, but you get the sense they're doing it to genuinely support the organization or support the community or support the residents of the community, not just to slap their name on it. It's the people there that give the bank the character that makes you think it's out of care."

That same sense of caring also comes through in daily business interactions and has resulted in a longstanding relationship between the two organizations. Both parties say their relationship is built on mutual trust, transparency and finding unique solutions.

Just as Zimmerman seeks ways to meet a homeowner's desires, Croghan partners with the contractor to find solutions to any banking need. From financing new equipment to day-to-day banking, Zimmerman Contractor knows they can trust in Croghan to find an appropriate solution.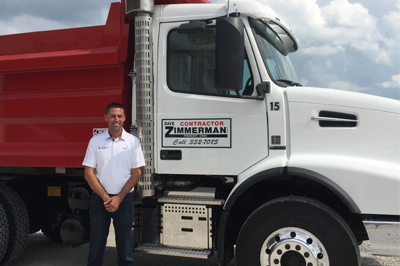 "Zimmerman comes to us with the next step they're planning for their business, and we work together to find a way to make it work," and John Fey, Vice President and Commercial Loan Officer at Croghan Colonial Bank. "Our relationship is built on mutual trust. We have trusted each other since the beginning, and there has never been any doubt on either side. We want to be a partner and not an obstacle."

"Any time we need anything lending - or banking-related, Croghan says, 'Yes, of course we can do that.' They get it done, it's timely and the whole experience has been very customer-service-forward and positive-solutions-based," added Tony.

Dave summarized by reflecting on his father's lively personality and optimism: "My dad used to have a saying...'The difficult we do right away. The impossible just takes us a little longer.'" He explained that having a network of local resources allows you to have solutions and service at your fingertips, any time of day. "I have my people I can call," he said. "and that's why you deal local."
Partnership with Croghan Colonial Bank Opens Doors for Crescent Manufacturing Company

Creating a product for the international market can be difficult for a local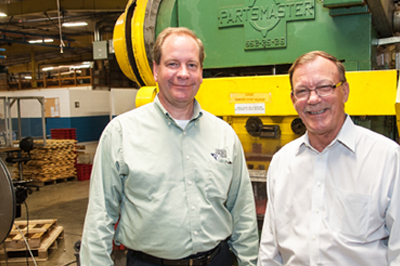 business, but Crescent Manufacturing Company has risen to the challenge for over 100 years.

Founded in 1898, Crescent Manufacturing Company is the only firm in the United States dedicated solely to specialty blade design and production. They manufacture only the highest quality specialty cutting blades, covering the gamut of industries, from food processing to medical applications.

Crescent developed a medical blade to slice biopsy sections as this has two microns, a mirokermatome blade to cut perfect flaps in corneas, and catheter blades to carefully bore plaque from arterial walls. At the other end of the spectrum, food manufacturers rely on Crescent for its ability to customer-design a food processing blade quickly and cost-effectively.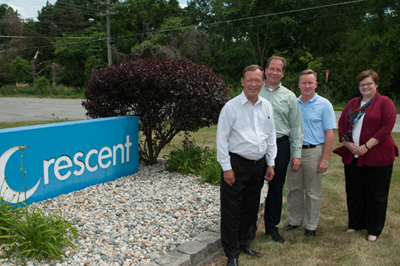 Operating from an 80,000-square-foot facility in Fremont, Ohio, Crescent's President Mike Waleryszak said he likes collaborating locally, which is one of the main reasons the company uses Croghan Colonial Bank.

Since the relationship was forged in 1981, Croghan Colonial Bank has assisted Crescent with a variety of banking services, including cash management solutions, pension assets planning and lending.

"We like dealing with local hometown companies. That's number one," Waleryszak said. "Being a hometown bank, you can give them a call and know the people that are on your account personally, know they can understand your situation, and they're very prompt either with providing a conflict resolution or any additional services you may require."

When asked why he's stayed with Croghan for so long, Walerszak cites their friendly demeanor and professional services. "They provide the services we need in a sophisticated manner. Typically, small banks, especially at a local level, won't be able to handle 401K plans, sophisticated pension assets, international transactions - but they can."

Cash management solutions are one of the key services Croghan provides. Crescent uses credit card payments sporadically, which doesn't generate the larger discounts from credit card companies. Croghan analyzes alternative methods for the best deal, such as ACH and wire transfers. Additionally, Croghan representatives regularly meet with Crescent employees to discuss their financial plans.

While Croghan matches the services and technology of larger banks, Mike Waleryszak said it surpasses them in excellent customer service. "They took the time to understand the machinery and equipment, learn the locations, what our people's needs are - all things that are pertinent to running the organization - and we consider that important," Waleryszak said.
Strong Relationship with Croghan Colonial Bank Builds Solid Foundation for Gordon Lumber Company

Community relationship building is a necessity for the Gordon Lumber Company,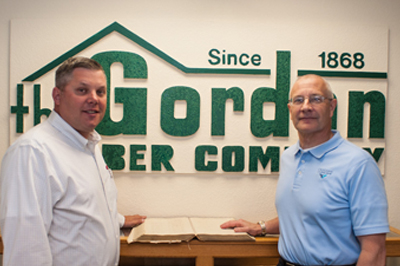 which is evident through their many years of service to a loyal customer base.

The Gordon Lumber Company is a high-quality lumber and building materials supplier founded in 1868, right after the Civil War. Over 100 years later, you can find its home improvement stores throughout Northwest Ohio.

The lumber industry is different because the majority of its sales are made in a short period of the year. "Activity is on a bell curve because there is a lag in construction in the winter," explained Erin Leonard, Gordon Lumber's CEO.

Gordon Lumber needed a financial plan and a bank to accommodate its unique needs, which is why the company chose Croghan Colonial Bank.

The two organizations mesh well; they serve a lot of the same markets, and they know the people in those communities. "This is a seasonal business - we make 75 percent of our money in four months," Leonard said. "Typical banking scenarios are looking for you to be profitable across every single month, and Croghan took the time, and had the background and the knowledge, to know at the end of the year we'll be like every other company. It'll still be a good year, but there's some seasonality to it."

Croghan worked with Gordon Lumber to set up a loan covenant text at an ideal time of year to stay in line with the company's business cycle.

The bank also helped the company find the right line of credit to accommodate the fluctuating amounts of materials needed throughout the year. "They took the time to learn the business and customize a solution," Leondard said.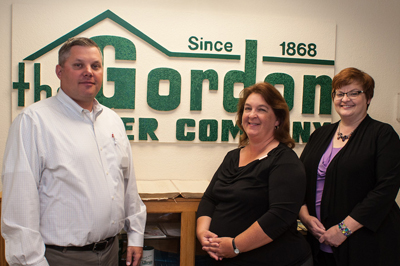 "Croghan also took the time to teach the lumber firm's employees how to use its banking software," said Rhonda Taylor, Gordon Lumber's Vice President of Finance and Controller. "Every bank has different software, and they all have different features," Taylor said. "Croghan brought a team in to make sure we knew how to use the software, and made sure we were set up properly before we were on our own. Knowing how to use it up-front was a good think; it was very helpful."

According to Leonard, Gordon Lumber's relationship with Croghan matches the relationship standards the firm upholds with the community: "Usually a big bank you get a relationship manager, and you see them once a quarter, and that's about it. I'm fairly certain that, if I ever needed to, I could walk right down the road and in the door and talk president to president."
Partnership with Croghan Colonial Bank Allows The Countertop Shop to Grow

Operating a profitable and growing business throughout the recession, The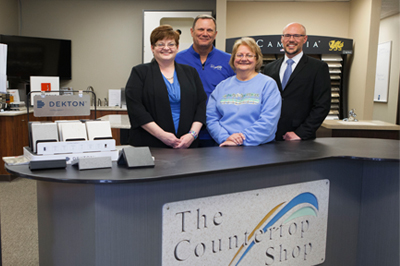 Countertop Shop owners, Mike and Karen Langenderfer, didn't expect any obstacles to their plans to buy land and build a new manufacturing facility to replace their leased headquarters.

But the loan process turned out to be harder to cut than one of their custom granite countertops, until they met with a representative from Croghan Colonial Bank.

"It didn't seem to matter to the banks that we are positioned well financially and are a profitable and growing business; they wanted us to wait another year," Mr. Langenderfer said.

While The Countertop Shop, which sells every type of countertop from laminate to natural stone, continued its growth despite the recession, a new, custom facility was needed to allow for increased production capacity and additional inventory for more profitable retail sales.

At the recommendation of a friend, Mr. Langenderfer contacted Croghan Colonial Bank. The call resulted in a visit from Shannon George, AVP/Commercial Loan Officer for Croghan.

"Our job is to understand our customer's business, and you can't do that by simply reading financial statements or loan applications," Mr. George said. "You have to visit the site and understand the business and the people."

By taking the time to understand the business and the local advantages The Countertop Shop has, it was clear that now what the right time for the company to expand into a custom building.

"Their increased sales, coupled with their ability to prosper during the recession, are a true reflection of their commitment to success, and we are happy to assist them with the funding necessary to continue in that pattern," Mr. George said.

For Mike and Karen Langenderfer, who pride themselves on customer service, meeting the staff at Croghan Colonial Bank was like a reflection of themselves.

"Shannon kept us informed and was very responsive throughout the entire process," Mr. Langenderfer said. "At times we were under the impression that we were his only customers."

That customer service helped Croghan Colonial Bank win all of The Countertop Shop's banking business, not just the building loan. Using the same process, Shantel Laird, AVP/Cash Management Officer, met with Karen Landgenderfer to understand the day-to-day banking needs of the business.

"Our role is to get to know the business and understand not only the cash flow, but the time constraints so that we can understand the tools the business needs to operate efficiently," Ms. Laird explained.

The electronic tools are great, Karen Langenderfer said, but what she appreciates most is the personalized attention.

"It is so refreshing to be treated like a valuable customer, and the ability to talk with someone on the phone means any questions are answered quickly," Mrs. Langenderfer said.

The Countertop Shop is expected to begin operations in its new building, located on Airport Highway just west of the Spring Meadow Shopping Center, by October 1, 2015.