At Croghan, we take pride in our commitment to customer satisfaction. While we like to think we do a great job, don't just take our word for it. Find out why several Croghan customers have enjoyed working with our Croghan and our employees.
The Countertop Shop Partners with Croghan Colonial Bank Through Challenging Times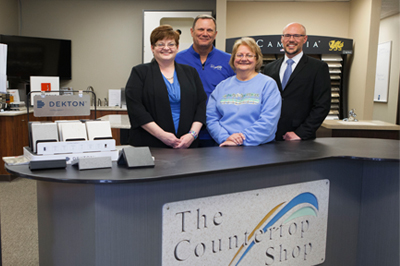 After operating a profitable and growing business through a recession, The Countertop Shop owners, Mike and Karen Langenderfer, hoped they would never see a repeat of that time. But when a global pandemic caused most businesses to shut down and they needed help understanding the Paycheck Protection Program (PPP) loan application, they knew where to turn - Croghan Colonial Bank.
Croghan's Customer Service is #1 for SERVPRO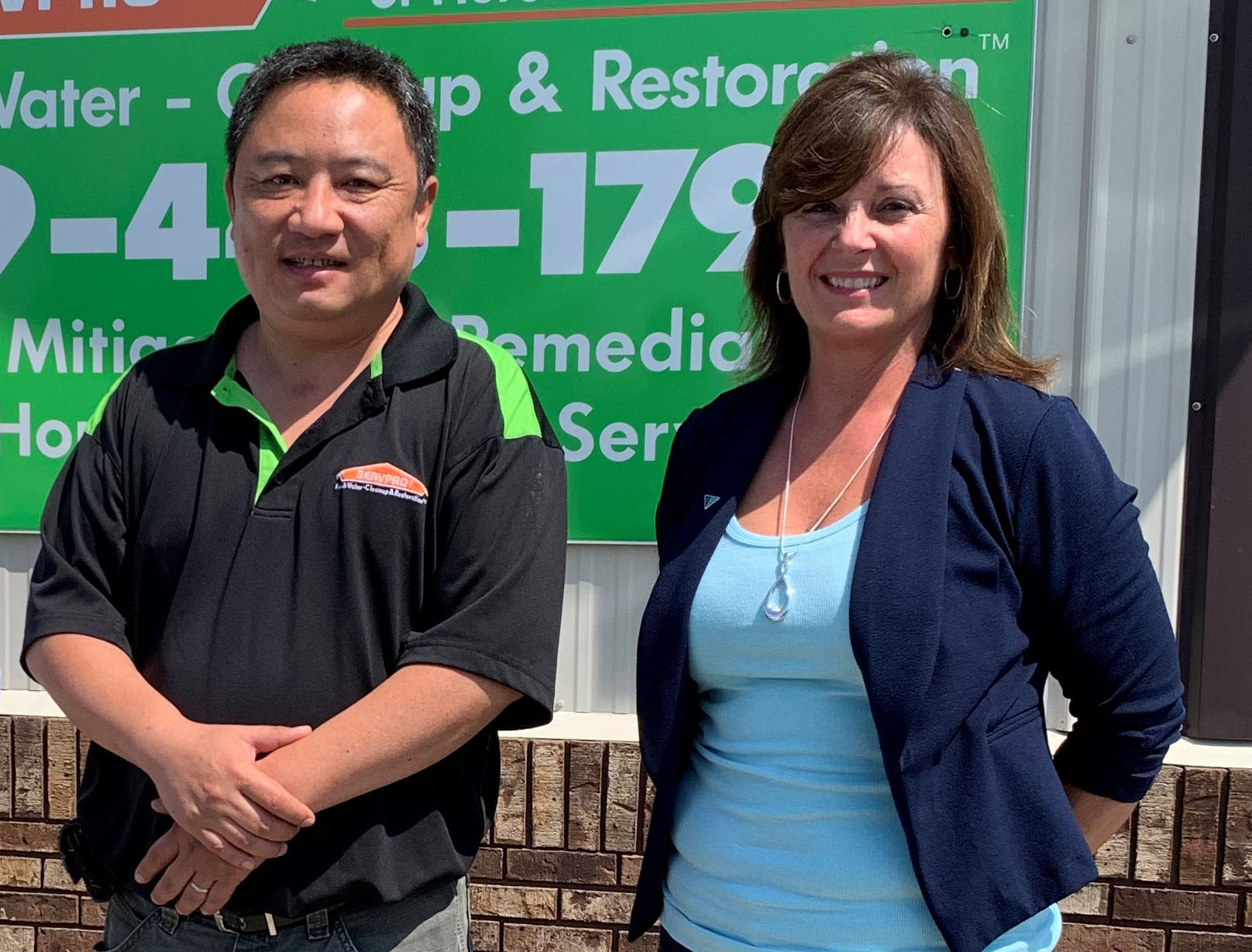 James Gao, owner of SERVPRO of Huron & East Seneca Counties, can't ever see himself working with another bank. When his business moved from Fostoria to Tiffin, James was looking for a more local bank to work with. "Croghan is a breath of fresh air after working with other competing institutions," James said.
James has worked closely with Gwen Stallard, Branch Manager of both Tiffin branches. "Gwen is a problem solver and she really cares, not just about the business but on a personal level as well. Gwen was so patient and detailed when money had to be transferred from China after my dad passed away," James said.
James enjoys Gwen's commitment to keeping his accounts safe, especially during last year's tax season. "SERVPRO was able to receive a tax break, which allowed me to give my employees bonus checks. Gwen made sure the withdrawal activity was normal on my account and called with any questions or red flags."
James knew it was time to switch all of his accounts to Croghan after a bad experience at a competitor when he was trying to receive a line of credit. "We thought it would be easy because of our credit, but the competitor said we don't have enough experience as a business. Even after being a part of their bank for 15 years." James said.
Having local business partnerships allows Croghan to make trusted referrals. "What's really nice is that we can refer our customers to James, and we have on many occasions. It's a give and take. We both work together." said Gwen Stallard, Tiffin Branch Manager.
"Croghan exceeds my expectations. I cannot imagine any other bank giving the same customer service. You are not just a number. They will take care of your stuff like it is their own," James said, "Everybody provides the same services, but at the end of the day, the only thing that matters is the customer care."
SERVPRO specializes in water, fire, and mold restoration and clean-up. They serve the Seneca and Huron County market, as well as newly expanding into Sandusky County and the Port Clinton area.
Borgers International Company Chooses Local with Croghan Colonial Bank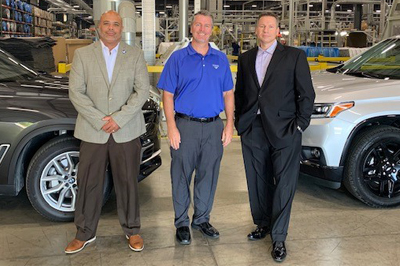 "We were looking to refinance a loan on a new, larger piece of equipment. We looked at bigger financial companies, but they didn't understand our business. We felt like just another customer to them," said Wissel. "When I spoke with Derek at Croghan Colonial Bank, though, I felt an immediate connection. Since they're local, they know who Borgers is and what we do. They understood what we needed and were willing to work quickly to help us."
Partnership with Croghan Colonial Bank Help Small-Town Shop Make the Cut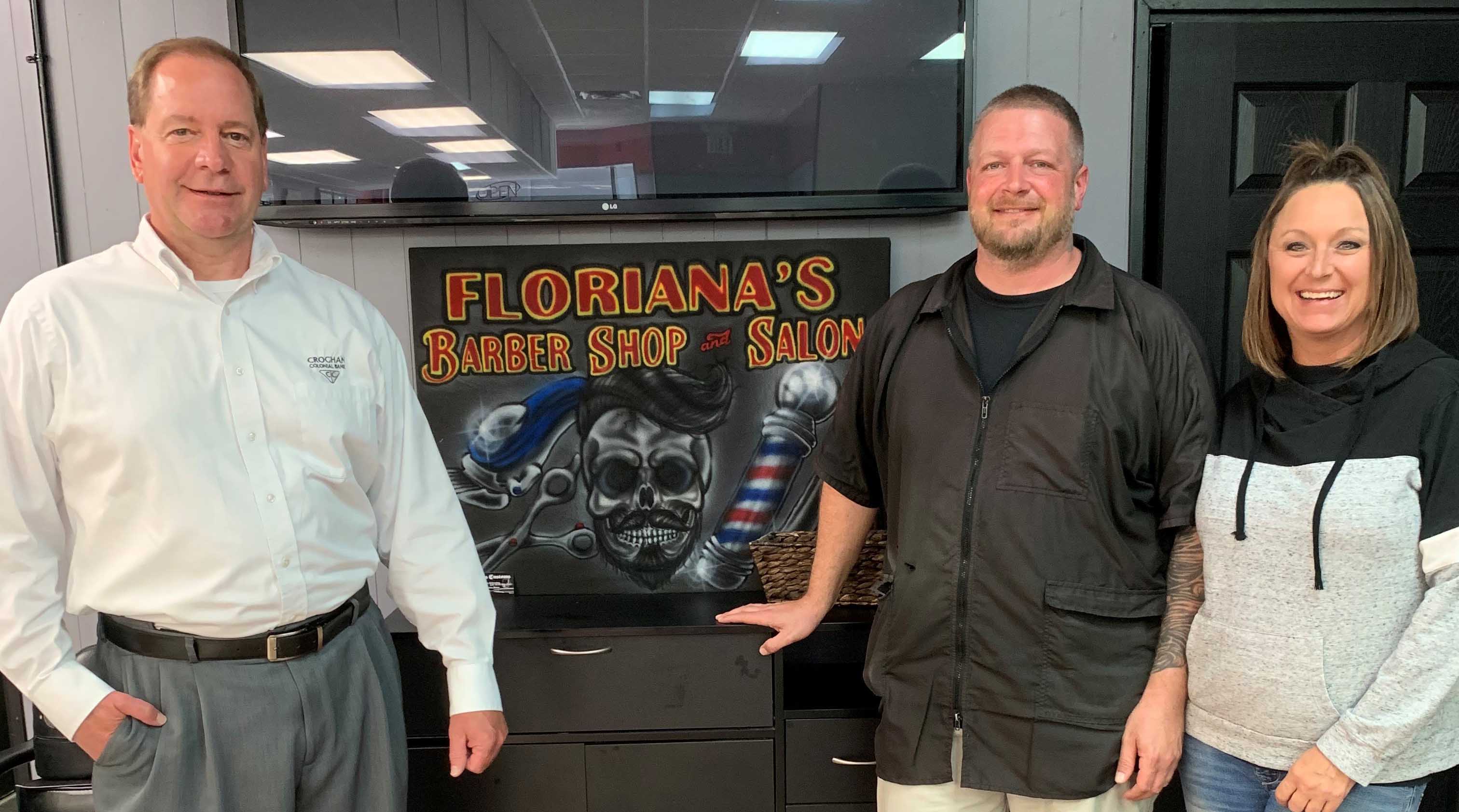 Derek Floriana always dreamed of being a licensed barber with his own shop but never thought that his dream would become a reality.
He started driving trucks, something else he dreamed of doing, to provide for his family. Derek saw truck driving as a way to see the country since his family never went on vacations growing up. He drove trucks for 13 years until he was ready for a change. In 2012, Derek graduated from the Toledo Barber Academy and opened his shop the following year.
"I started cutting hair when I was 12 and just did all the neighborhood kids," said Derek. Floriana's Barber Shop sets itself apart from other barbershops by offering women's hair services, tanning, massages, and nail services.
Jamie Miller, Derek's girlfriend and co-owner of Floriana's Barber Shop, uses Croghan for her personal banking and found it to be the best institution to continue working with for their barbershop. "I've shopped around but I've found the best customer services and lowest interest rates at Croghan. I wanted to keep everything at Croghan and make it simple," she said.
John Fey, Commercial Lender at Croghan, helped Derek and Jamie with any questions they had throughout their loan process. Jamie was grateful for John answering her questions quickly and thoroughly. Jamie has stayed a Croghan customer because of the accessibility, as well as the community involvement of the Croghan employees.
"I go to any of the branches because there are so many in Fremont alone. It's so convenient that I can find one anywhere. You don't have to hunt for a bank," she said. "It's nice that the people that work there are out and about and you know them personally."
Small Business, Community Bank Invest in Each Other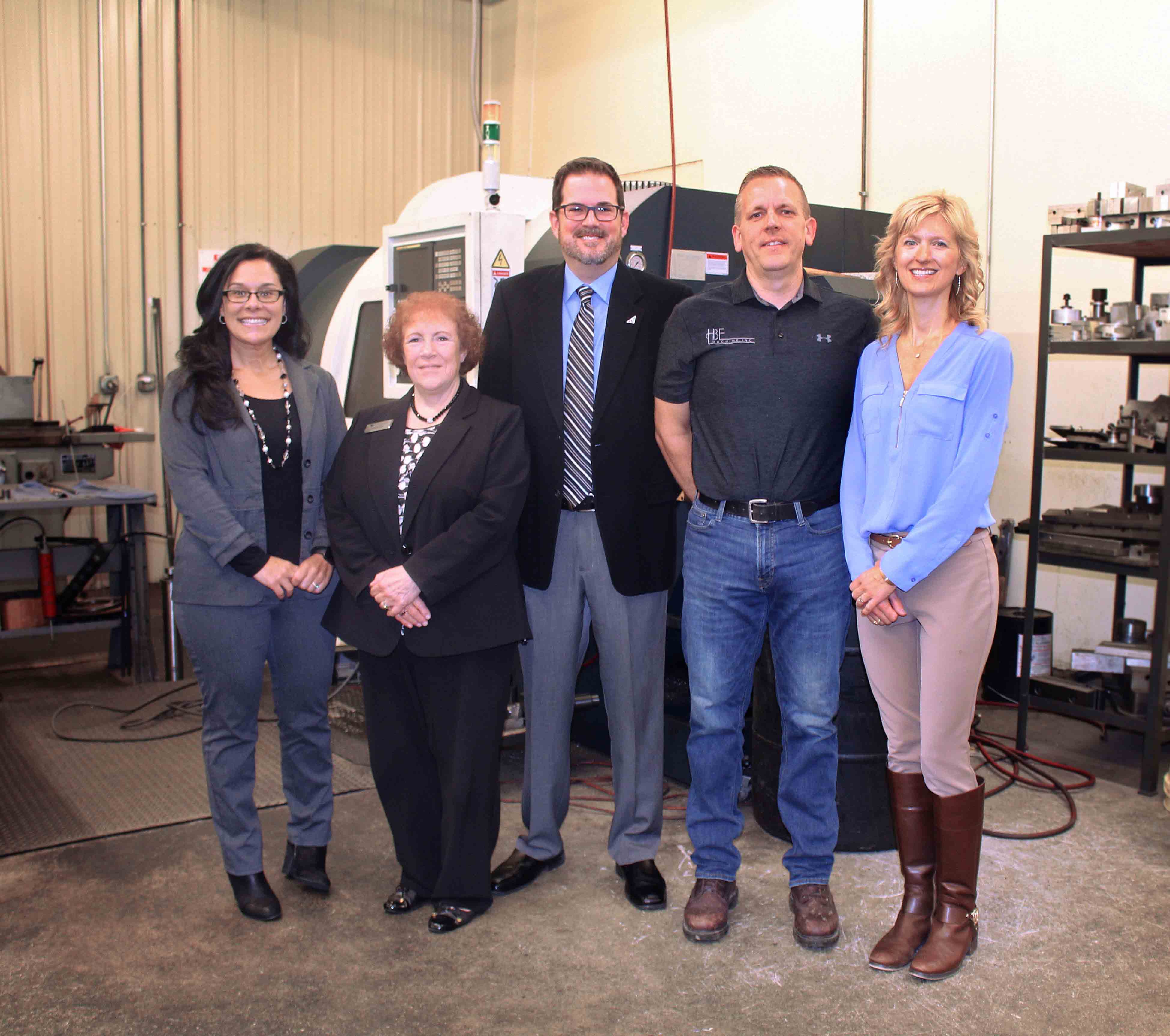 In the early 1980s, Tom Hedrick of Monroeville spent his spare time tinkering with performance diesel pulling-tractor parts with Ralph Hedrick and Jim Ebert. By 1985, he had progressed far beyond tinkering and incorporated as a side business. Then, a customer at Tom's day job needed a machine to extract plastic components from its molding machine. When Tom's employer was too busy to design and build the required machine, an agreement was made for Tom to build it in his shop in the evenings.
That project helped launch HBE Machine. Tom and his wife, Susan, along with Tom's brother, Ralph, and Ralph's wife, Karen, poured everything they had into making it work. In 1992, with some help from Croghan Colonial Bank, Tom and Ralph were able to make HBE Machine their full-time employment.
"This is the only bank my dad has ever dealt with," said Thomas Hedrick, Tom's son, and current HBE owner/manager. "When he first got married, all of his banking, including home and auto loans, was done at Croghan. When he went into business, he stayed with Croghan, and we've been there ever since."
As HBE expanded its services, Croghan was there to provide support. Now, HBE Machine builds machining components for four primary industries: plastics, performance diesel parts, road construction, and specialty lighting. And through the years and the changes and the next generation, HBE Machine still works with just one bank: Croghan.
Thomas credits the bank's dedicated service and sense of partnership. For instance, when Thomas took over the business after his father passed away, Croghan guided him through the transition. Though he had been involved with the business for years, he hadn't been involved in its finances.
"Croghan took the time to explain everything to us and set us up with a credit card machine, electronic banking, et cetera. They came out several times to help us," he said.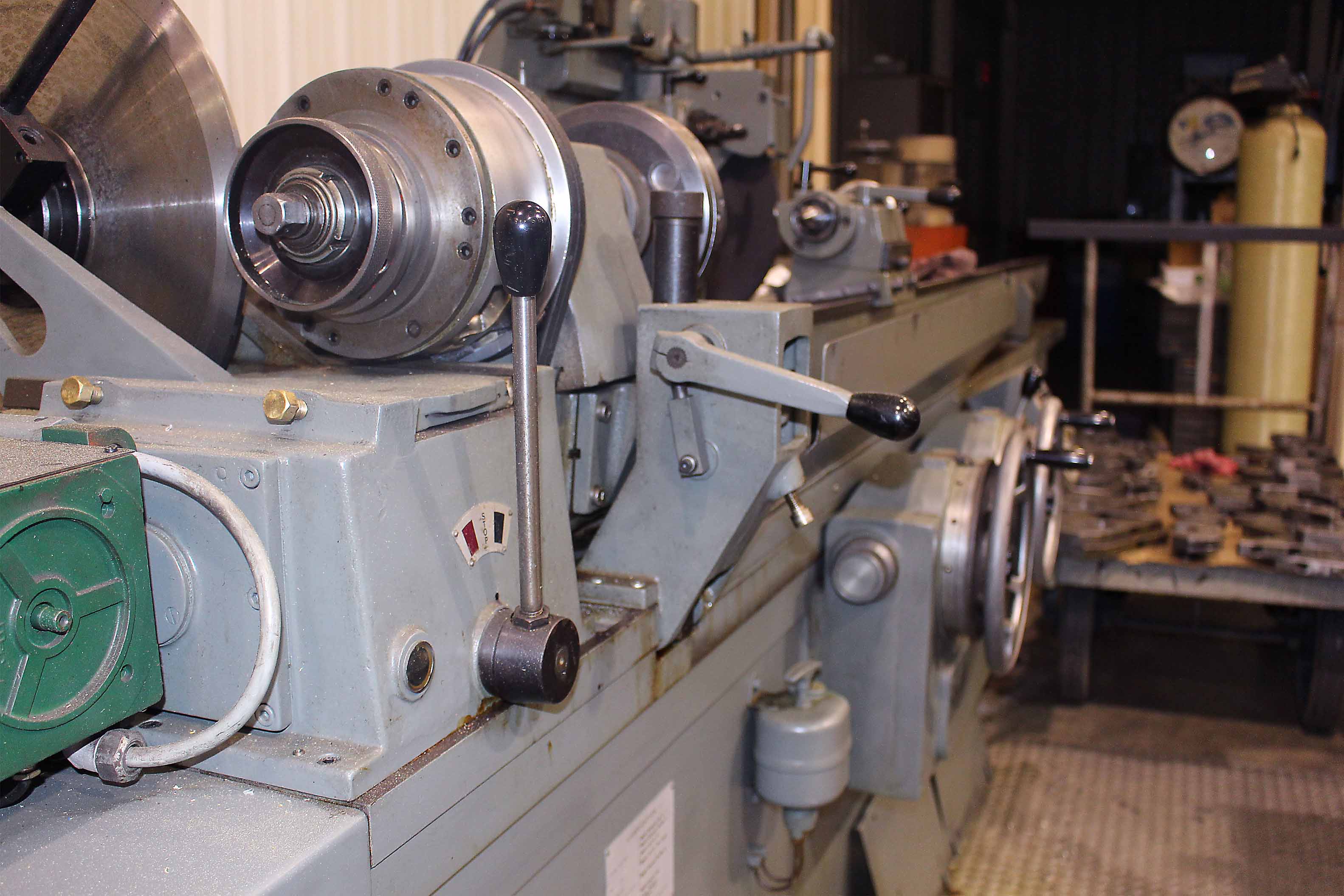 That appreciation goes both ways. Croghan employee said, "We can sit and talk about what HBE Machine has coming up or what Croghan has that's new. They take the time to really listen and keep our service offerings in the back of their mind."
During the 2008 recession, HBE's customers were taking longer to pay, and fewer jobs were coming in. Croghan stepped in to help. Croghan offered a capital loan and a line of credit to bridge the gap, drastically minimizing the impact of layoffs and allowing HBE to invest in new work as the economy recovered. That line of credit is still helping HBE to be agile and competitive.
"You have enough worries about everything you're doing," Thomas said. "But, honestly, one of the last worries I have is if I'm going to have enough money to get a job kicked off...If I need new equipment to start a job, I know it isn't going to be a difficult process, and that lets me be more aggressive in the marketplace."
"I like working with smaller businesses. In bigger companies, it's hard to reach a real person. But with Croghan, they're always readily available." That, he said, makes all the difference.
"One thing I've always liked and appreciated is that we're a smaller business, but we're not just a number to them. We feel important."
Long-Time Employee Becomes New Shop Owner with Help from Croghan Colonial Bank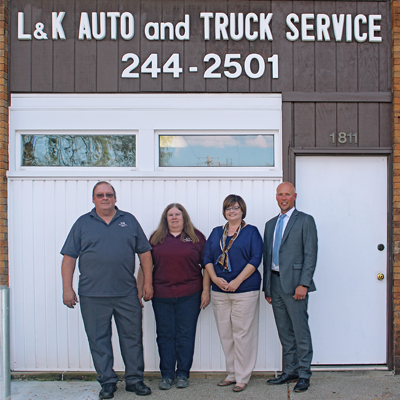 For more than a decade, Daniel Long knew he would be buying L&K Auto and Truck Service. Dan was the lead technician at the shop and owner Joe Koluch was glad to know Dan would be prepared to take over when he retired. Established in 1990, L&K is a busy maintenance garage in the heart of downtown Toledo. with loyal customers from as far away as Detroit.
Our goal has always been to keep the business in the 'family' - Joe is like a brother to me in so many ways," said Dan. "We had a collective plan in mind. Joe was going to retire at 65, giving us plenty of time to make preparations to buy the business.
But, of course, life is unpredictable and plans change, and a serious accident forced Joe into retirement a couple of years early. With obligations that could impede their ability to get the required level of financing, Dan and his wife, Darlene, went in search of a banking partner who could help secure the backing needed to achieve their dream.
Their first stop was a conversation with commercial Realtor Jeff Links, from Miller Danberry Commercial Realty, who connected them with Shannon M. George, Vice President and Commercial Loan Officer at Croghan Colonial Bank. Early on in the discussion, Shannon suggested a meeting with the Toledo Regional Chamber of Commerce Small Business Development Center, an invaluable resource that helped prepare the Longs for the transaction.
"We have found a very good partner for innovative approaches in the Small Business Administration. They will guarantee a portion of a loan so purchasers can finance a transaction that may not qualify for traditional commercial loans," Shannon said. "We are one of the few community banks that do such an excellent job utilizing the SBA," As a team, Croghan and the SBA worked out a plan to finance the purchase.
Once the deal structure and financing were in place, Dan and Darlene were introduced to Shantel Laird, Assistant Vice President and Cash Management Officer at Croghan, who provided them with support on a daily basis.
"My team and I oversee cash management and identify ways to service our customers, making sure all of the necessary tools and solutions are in place to help them manage their daily functions," Shantel explained. "No two situations are alike, so we take the time to get to know our customers and design a customized approach to meet their needs."
Dan heartily agreed. "Right after the sale, Croghan reached out to us. It's not like, once the deal was done, they were off to the next. They really pride themselves on the relationships they build with their customers, and that means everything!"
Working with the SBA made all the difference, according to Shannon George. "We were very fortunate to use the SBA in this transaction to guarantee some of the shortfalls and make that transaction happen," he said "Dan and Darlene were able to come in and purchase everything - the building, equipment, and business."
"I never thought this deal would actually get pulled off," admitted Darlene. "But the constant communication, guidance, and drive from the team at Croghan gave us the confidence to make it a go. And together, we did!"
Thomas Steel Inc. Family Legacy Lives on Through Partnership with Croghan Colonial Bank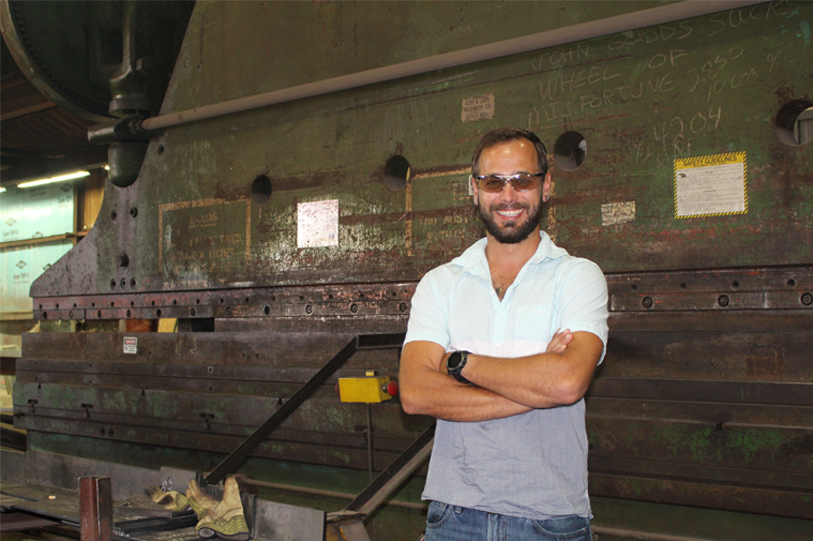 "I thought no one would ever give a 22-year-old a credit line for a couple million dollars to buy materials for this business," he said. "Croghan was willing to work with me when other banks would not."
Strong Relationship with Croghan Colonial Bank Builds Solid Foundation for Dave Zimmerman Contractor, LLC
Dave Zimmerman Contractor, LLC, has long operated under - and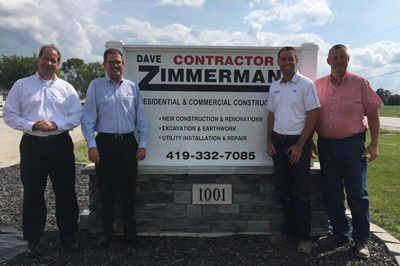 insisted on - strong and honest principles like supporting the community, building relationships on trust, and finding unique solutions.
Dave Zimmerman Contractor is a local, family-owned, and operated business. Dave's father, Don Zimmerman, started the business in 1960, and Dave bought the business when his father retired. The business is now transitioning to the third generation; Dave's son Tony is in the process of taking it over.
Zimmerman Contractor provides commercial and residential general construction, excavation, grading, renovation, and remodeling. It's a business based on local relationships, so both Dave and Tony place significant importance on supporting the local community.
"Local is very, very important to me. It was very important to my father. We buy everything local as much as we can...and I support the nonprofit organizations in this county." said Dave.
This "buy local" mentality is what led Dave Zimmerman to bank with Croghan Colonial Bank.
"There was only one organization serving coffee every year at the fair, and guess who it is: Croghan Colonial Bank," Dave said.
He took particular notice of Croghan's annual fair presence one year while watching his kids' band performance. The next week, Dave asked his then-bankers how they were supporting the local community. "I couldn't get a good answer," he said. So he switched to Croghan.
As a locally owned and operated bank, Croghan embodies many of the same principles as the Zimmermans. Croghan regularly supports local organizations and events to connect with and contribute to its community.
"Some people throw their names everywhere, but I don't get that sense from certain businesses," said Tony Zimmerman. "Sure you see the sign that says Croghan sponsored the refreshments, but you get the sense they're doing it to genuinely support the organization or support the community or support the residents of the community, not just to slap their name on it. It's the people there that give the bank the character that makes you think it's out of care."
That same sense of caring also comes through in daily business interactions and has resulted in a longstanding relationship between the two organizations. Both parties say their relationship is built on mutual trust, transparency, and finding unique solutions.
Just as Zimmerman seeks ways to meet a homeowner's desires, Croghan partners with the contractor to find solutions to any banking need. From financing new equipment to day-to-day banking, Zimmerman Contractor knows they can trust in Croghan to find an appropriate solution.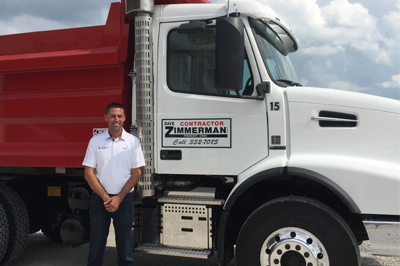 "Zimmerman comes to us with the next step they're planning for their business, and we work together to find a way to make it work," and John Fey, Vice President and Commercial Loan Officer at Croghan Colonial Bank. "Our relationship is built on mutual trust. We have trusted each other since the beginning, and there has never been any doubt on either side. We want to be a partner and not an obstacle."
"Any time we need anything lending - or banking-related, Croghan says, 'Yes, of course, we can do that.' They get it done, it's timely and the whole experience has been very customer-service-forward and positive-solutions-based," added Tony.
Dave summarized by reflecting on his father's lively personality and optimism: "My dad used to have a saying...'The difficult we do right away. The impossible just takes us a little longer.'" He explained that having a network of local resources allows you to have solutions and services at your fingertips, any time of day. "I have my people I can call," he said. "and that's why you deal locally."
Partnership with Croghan Colonial Bank Opens Doors for Crescent Manufacturing Company
Creating a product for the international market can be difficult for a local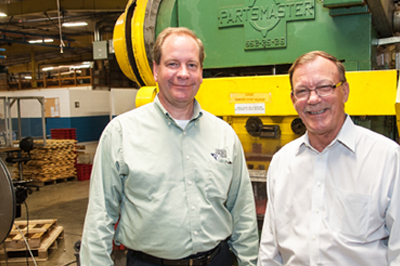 business, but Crescent Manufacturing Company has risen to the challenge for over 100 years.
Founded in 1898, Crescent Manufacturing Company is the only firm in the United States dedicated solely to specialty blade design and production. They manufacture only the highest quality specialty cutting blades, covering the gamut of industries, from food processing to medical applications.
Crescent developed a medical blade to slice biopsy sections as this has two microns, a microkeratome blade to cut perfect flaps in corneas, and catheter blades to carefully bore plaque from arterial walls. At the other end of the spectrum, food manufacturers rely on Crescent for its ability to customer-design a food processing blade quickly and cost-effectively.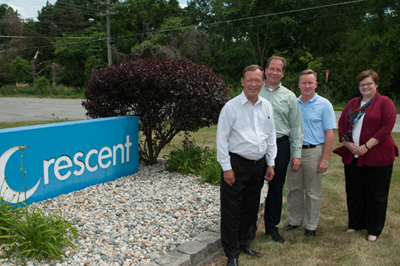 Operating from an 80,000-square-foot facility in Fremont, Ohio, Crescent's President Mike Waleryszak said he likes collaborating locally, which is one of the main reasons the company uses Croghan Colonial Bank.
Since the relationship was forged in 1981, Croghan Colonial Bank has assisted Crescent with a variety of banking services, including cash management solutions, pension assets planning, and lending.
"We like dealing with local hometown companies. That's number one," Waleryszak said. "Being a hometown bank, you can give them a call and know the people that are on your account personally, know they can understand your situation, and they're very prompt either with providing a conflict resolution or any additional services you may require."
When asked why he's stayed with Croghan for so long, Walerszak cites their friendly demeanor and professional services. "They provide the services we need in a sophisticated manner. Typically, small banks, especially at a local level, won't be able to handle 401K plans, sophisticated pension assets, international transactions - but they can."
Cash management solutions are one of the key services Croghan provides. Crescent uses credit card payments sporadically, which doesn't generate larger discounts from credit card companies. Croghan analyzes alternative methods for the best deal, such as ACH and wire transfers. Additionally, Croghan representatives regularly meet with Crescent employees to discuss their financial plans.
While Croghan matches the services and technology of larger banks, Mike Waleryszak said it surpasses them in excellent customer service. "They took the time to understand the machinery and equipment, learn the locations, what our people's needs are - all things that are pertinent to running the organization - and we consider that important," Waleryszak said.