Resources for Black Business Owners and Entrepreneurs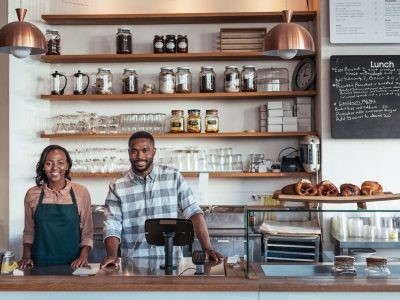 Starting your own business is a challenging but exciting and rewarding achievement. Entrepreneurs face a variety of obstacles when starting a new venture, from obtaining financing, hiring a team, marketing their product or service, keeping up with competitors, and so much more. For some Black entrepreneurs and business owners, these challenges can be even harder to overcome.
A study by Guidant Financial found out of all the challenges Black entrepreneurs face, one of the most prevalent is lack of funding. For most entrepreneurs, regardless of race, obtaining financing is often the greatest challenge to getting their business up and running. Many entrepreneurs first look to family and other social connections to raise funding. For many Black entrepreneurs, the racial wealth gap means we almost inevitably start with less capital.
It's worth the effort to overcome these challenges for those who want to become their own boss and/or pursue their passion. The good news is, there are a variety of resources specifically set up to help Black entrepreneurs and business owners push beyond obstacles and achieve their dreams and goals. Take a look at some of these local and national resources.
Minority Business Development Agency (MBDA)
MBDA is an agency of the U.S. Department of Commerce that promotes minority-owned business growth by linking minority-owned businesses with the capital, contracts, and markets they need to grow.
They also serve as subject matter experts and advocates for the minority business community by providing free educational content and loan and grant opportunities, including a loan opportunity specifically for Black women business owners.
National Minority Supplier Development Council (NMSDC)
NMSDC's mission is to connect minority-owned organizations, big and small, with a vast network of corporate members who wish to buy products, services, and solutions from minority-owned businesses. The corporate membership includes the largest public and privately-owned companies and healthcare companies, colleges, and universities.
NMSDC also helps businesses complete the minority business enterprise (MBE) certification process often needed to obtain other minority-owned business benefits.
U.S. Small Business Administration (SBA)
While the SBA services all U.S. small businesses, it's 8(a) Business Development program specifically sets out to assist minority-owned businesses, including Black-owned businesses, by providing revenue generation opportunities through government contracting. To qualify for the program, you must first certify your business is an 8(a) business, which you can complete on the SBA website.
Look Beyond Funding
One commonality among the Black entrepreneurs and business owners I've seen succeed is an unwavering focus on marketing their business and networking with everyone who is an ally. Funding is an important factor in getting your business up and running, and maintaining capital is important in ensuring your business continues to succeed, but often overlooked is the importance of networking with members outside the community to expand our reach.
Our community is a good place to establish connections and resources through all stages; however, continue connecting with those outside the Black community and expand relationships outside your typical market. Remember, a resource may not always be funding. A resource can be a mentor or an advocate willing to promote your product, service, or brand.
The Bottom Line
All entrepreneurs share a lifelong dream of starting and growing a business. Unfortunately, Black entrepreneurs and business owners still face an unfair struggle in some areas. Thankfully, federal and local programs are available to help provide educational tools, funding resources, and network-building opportunities.
According to the U.S. Census Bureau's latest figures, the number of Black-owned businesses is on the rise. As long as we are provided support and opportunities, our businesses will flourish, and in turn, our communities will thrive.
When you're ready to take the leap toward owning your own business, or you're ready to grow your existing business, know you have educational tools, funding resources, and network-building opportunities to help achieve your dream.