Card Management Service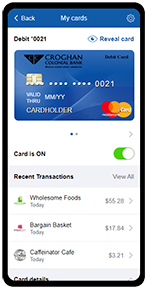 Card Management is at your fingertips with the Croghan Mobile Banking App. Tracking your card activity can be done with the touch of a button, and you can easily monitor your transactions and spending activity.
Card Management allows you to:
Deactivate lost or stolen cards
Review your transactions
Set spending limits
And more
Learn more about the helpful features of card management!